GOLD FOR WATER

Access to safe drinking water and adequate sanitation facilities is a basic human right, but just one in ten people have direct access to safe water in the Gaza Strip. Some 1.8 million people require some form of humanitarian Water, Sanitation, and Hygiene (WASH) assistance, of which children comprise some 52 percent. (UNICEF)

Gaza's water crisis includes both a shortage of potable water and poor wastewater, sewage, and sanitation infrastructure. The lack of access to safe water for drinking, cooking, and bathing, combined with the over 108,000 cubic meters of untreated sewage that flows daily from Gaza into the Mediterranean, makes for serious health risks in Gaza and in neighboring Israel and Egypt. A strict Israeli blockade that bans the importation of construction materials, water pumps, and energy only intensifies this crisis.

Today, Israel supplies about 5 percent of Gaza's clean water. For the remainder, Gazans depend on an already overextracted, depleted, and polluted coastal aquifer. Moreover, contamination by seawater, chemicals, untreated or undertreated sewage, and runoff from fertilizer leaves only about 4 percent of the aquifer's water safe to drink. The rest needs to be purified and desalinated.

Gaza's municipal water grid is also unreliable. Much of it was destroyed during the war, and Israel's blockade prevents material for reconstruction from entering Gaza. This forces residents to improvise, relying instead on an unregulated system of wells, and on water vendors, who truck water to households for about 30 shekels (or 7 US dollars) per cubic meter of water instead of the 1 or 2 shekels the same amount would cost through the municipal grid.

In Khuza'a, the Qudaih family has always struggled with water access, and has therefore long experimented with self-sufficient and regenerative water sources. In 1983, the family built their first rainwater-harvesting system, which included an underground water tank with a movable cover, along with a series of small dams to direct rain-water to the tank.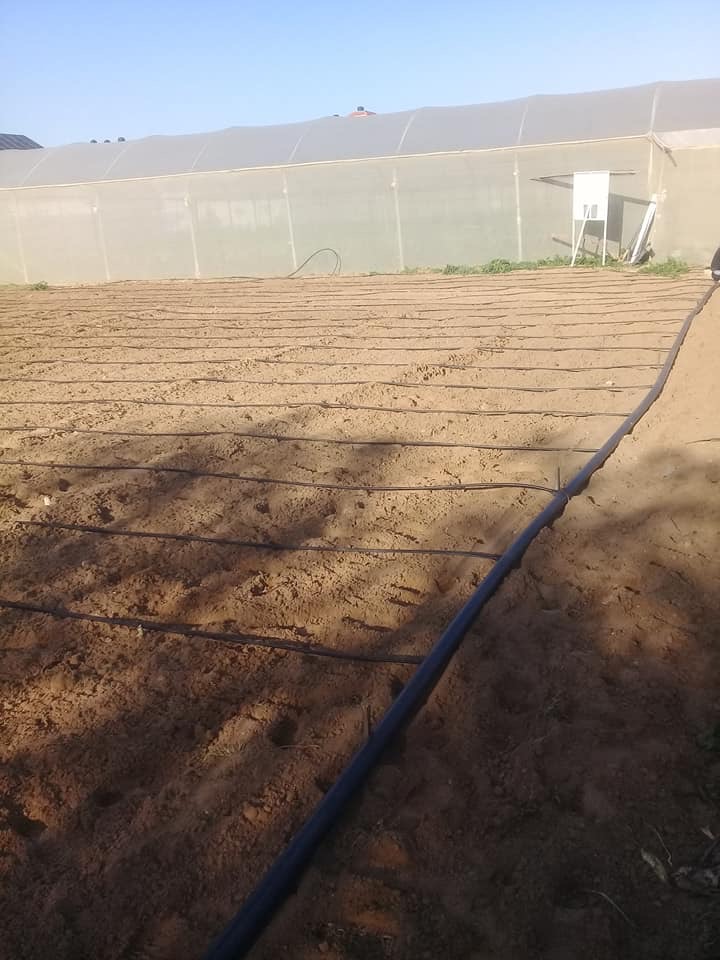 One of the farm's irrigation systems
To pay for the material necessary for the system's construction, Khaldya Qudaih sold the gold she received at her wedding. Abd el Haleem Qudaih, for his part, constructed the system.
Pump and water tank next to the Qudaih family's greenhouse

The rainwater-harvesting system's tank, it turned out, was built to be opened when it rains, which made for highly dangerous work. In Gaza, it rains mainly at night, when Israeli-imposed curfews prevent Gazans from leaving their homes, lest they be shot. The farm, furthermore, was and remains heavily surveilled due to its proximity to the border.